On March 12th-13th, the first Cycle Tourism Expo & Talks was held in Milan, Italy, an event we organized with the goal to inspire and share information about all things related to cycling holidays and leisure cycling.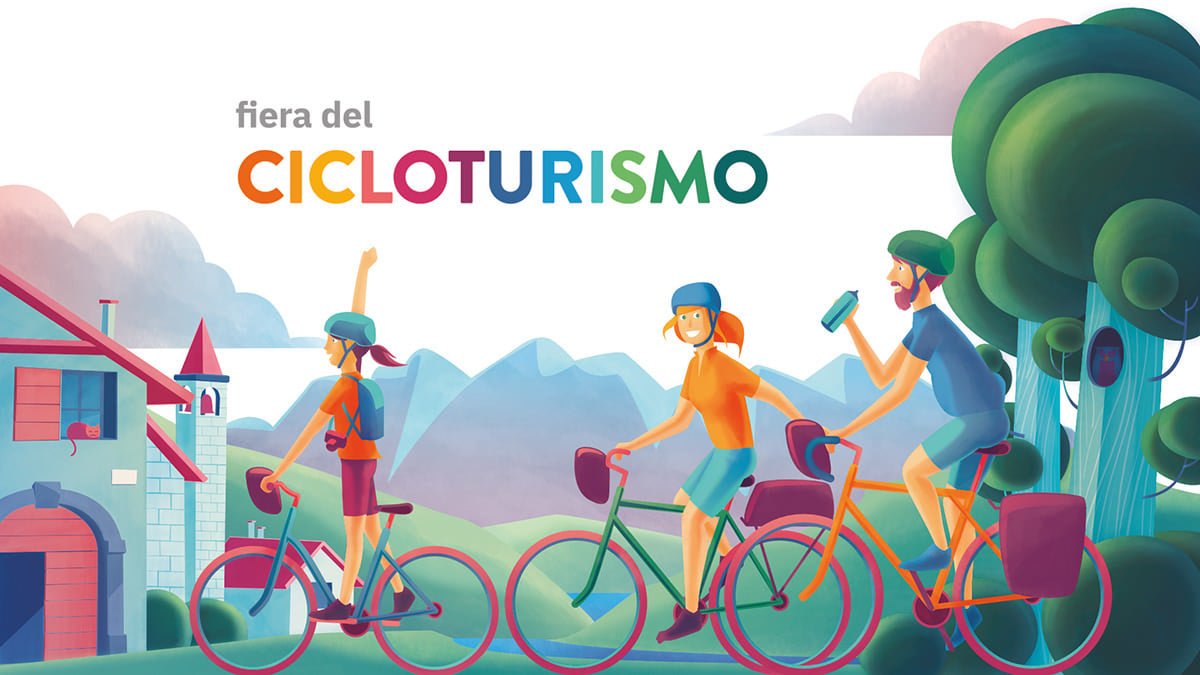 About 50 exhibitors decided to put their trust in us for this first edition, many of them even of an international level who chose our fledgling platform to advertise their destination, services and products to Italian cycle enthusiasts.
Saturday morning, the Cycle Tourism Fair was stormed by visitors who formed a queue of several hundred metersin front of the Fabbrica del Vapore, Milan.
In total, we counted (thanks to the system of preregistrations and wristbands that we gave to each visitor) about 15,000 attendees (55 percent from Lombardy, 45 percent from outside the region), proving that cycle tourism is a reality that is finding increasing interest.
Many exhibitors were surprised by the numbers and, by mid-morning of the first day, they had already run out of materials to distribute. In order to meet the impressive number of visitors, we had to thin out the copies of the Cycle Tourism Journal that we were distributing at the entrance and which you can download for free by clicking on the image below.
The secure parking lot we set up at the entrance, with the indispensable support of Shimano Italia, accommodated a total of 1,300 bicycles that otherwise would have ended up attached to some pole, at the mercy of thieves and malicious people.
The 26 Bikeitalia Talks also went very well, in which there were itinerary and book presentations, training workshops on mechanics, biomechanics and training, and meetings with personalities who made bicycle travel epic, between pursuit of the extreme, conveying positive content and confronting illnesses that seem insurmountable obstacles. The hall was always packed.
The cerry on the cake was the moment of the inauguration, which was attended by the Minister of Tourism, Massimo Garavaglia, who left us with an interesting remark, "with diesel fuel at 2 euros, we should start asking ourselves some questions."
Minister Garavaglia, this morning attended the opening of the first "Cycle Tourism Fair" at the Fabbrica del Vapore in Milan.
"Tourism needs organization and as a government we are working towards that alongside operators." @massimogara pic.twitter.com/kw28z7zFlT

– Ministry of Tourism (@MTurismoItalia) March 12, 2022
Being a first edition, we could not afford advertising investment in print, radio, or TV. We could only rely on the strength of the proposal, our community and our communication channel: Bikeitalia.it. We ourselves were surprised by the results.
We asked some exhibitors for their opinions, and this was the verdict:
"Unexpected influx of public, we are surprised by the interest in Sicily that exceeded expectations. A first experience to be repeated." said Lucia Di Fatta, Director General of the Department of Tourism, Sports and Entertainment of the Sicilian Region.
Antonio Nicoletti, General Director of Apt Basilicata expressed himself in this regard, "We are very pleased with our participation in the first cycling tourism fair here in Milan. We found great interest from the many enthusiasts."
Marcella Ercolin of Tourism Ireland had this to say about the event, "We are impressed with the large turnout at the fair and Ireland's booth. This reconfirms to us the strong potential of Ireland for all cycling and outdoor vacation enthusiasts."
Marta Teixidor, director of Catalonia Tourism in Italy expresses enthusiasm: "Of all the fairs I do in Italy, this event is among the ones I have enjoyed the most."
"Absolutely unexpected!"said Daniele Schena, of E-Stelvio.
"Interesting, unexpected this fair. We will participate again, a new world for us." Stefano Sogne, sales director of Made by Turisanda, Alpitour Group.
A heartfelt thank you goes out to all those who supported us during these two pandemic years, to all those who bet on a first edition that was by no means a foregone conclusion, and to the audience who showed us.
Appointment 2023, info www.fieradelcicloturismo.it